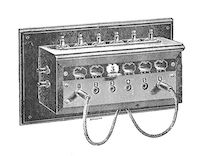 Civic Switchboard is an Institute of Museum and Library Services supported effort that aims to develop the capacity of academic and public libraries in civic data ecosystems.
We encourage partnerships between libraries and local data intermediaries that will better serve data users, further democratize data, and support equitable access to information. Our project is creating a guide and toolkit for libraries interested in expanding (or beginning) their role around civic information.
Stay Informed
Sign up to receive more information about upcoming opportunities, read our blog posts, check out our guide (in development), and follow us on twitter and GitHub. .
Contact
Civic Switchboard Team
Aaron Brenner, The University Library System at the University of Pittsburgh
Bob Gradeck, Western Pennsylvania Regional Data Center
Toby Greenwalt, Carnegie Library of Pittsburgh
Julia Marden (from July 2019), Carnegie Library of Pittsburgh
Eleanor "Nora" Mattern, School of Computing and Information, University of Pittsburgh
Liz Monk, Western Pennsylvania Regional Data Center
Kathy Pettit, National Neighborhood Indicators Partnership
Eleanor Tutt (until October 2018), formerly of Carnegie Library of Pittsburgh
Civic Switchboard Data Literacy Team
Eleanor Mattern (PI), Teaching Assistant Professor at the School of Computing and Information, University of Pittsburgh
Marcia Rapchak, Teaching Assistant Professor at the School of Computing and Information, University of Pittsburgh
Kahlila Chaar-Pérez, Postdoctoral Associate at the School of Computing and Information, University of Pittsburgh
Liz Monk, Project Manager at the Western Pennsylvania Regional Data Center
Jane Thaler, Doctoral Candidate at the School of Computing and Information, University of Pittsburgh
Bob Gradeck, Project Director at the Western Pennsylvania Regional Data Center
Matt Burton, Teaching Assistant Professor at the School of Computing and Information, University of Pittsburgh
Jacob Biehl, Associate Professor at the School of Computing and Information, University of Pittsburgh